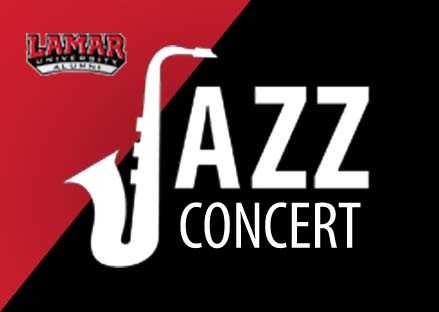 Lamar University Alumni Jazz Concert
November 14, 2021 • 5:00 pm
|
Free
Lamar University Alumni Jazz Concert Featuring Alumni Big Band and Special Guest Jimmy Simmons at the Downtown Event Centre on Sunday, November 14 starting at 4:00pm. The event is free and open to the public.
The Lamar University Alumni Big Band is made of music educators and professionals from around the state who were music students at Lamar over the last 40+ years. All were members of the Lamar Jazz Band under the direction of the late Dr. Wayne Dyess or the current director, Rick Condit.
The group will be led by former Lamar University President, Dr. James M. "Jimmy" Simmons, who began his career at Lamar in the early 1970's as Assistant Band Director and leader of the Jazz Ensemble. An avid jazz fan and accomplished saxophonist and pianist himself, Dr. Simmons continued to mentor music students throughout his entire career.
The Alumni Big Band will perform classic favorites from the repertoires of Benny Goodman, Duke Ellington and Buddy Rich, as well as contemporary arrangements of tunes written by jazz legends such as Thelonious Monk and Eddie Harris.
Members of the band include trumpeters Kevin Stone, Gary Weldon, Ross Boothman, and Rusty Lay. Trombones are recent graduates Carl Woodall, De'Vionne Jones, and Aaron Porter. Saxophonists will be Gary Janecek, Don Rollins, David MacArthur, and Kurt Killion. The Rhythm section will include Jimmy Baas, piano; Carl Richardson, bass; Jeff Simon, guitar; and Billy McQueen, drums.
The concert will be opened by the Lamar Cardinal Jazz Orchestra under the direction of Rick Condit.
Don't miss the Lamar University 2021 Homecoming: Cardinalpalooza on Saturday, November 13! For more information on the full homecoming day schedule, visit lamar.edu/homecoming.