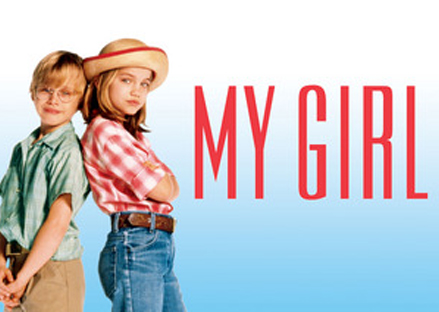 Movie Night – My Girl
November 19, 2021 • 7:00 pm
Friday, November 19, 2021
Jefferson Theatre
Come celebrate the 30th Anniversary of My Girl at the Jefferson Theatre on November 19!
Tickets on sale soon!!
Kids under 12 $4
Adults $6
Doors 6pm
Movie 7pm
Tomboy Vada Sultenfuss (Anna Chlumsky) has good reason to be morbid: her mother died giving birth to her, and her father (Dan Aykroyd) operates a funeral service out of their home. The other kids think she's a freak, and it certainly doesn't help that her best friend, Thomas J. Sennett (Macaulay Culkin), is a boy. To make matters worse, Vada is desperately in love with her English teacher, Mr. Bixler (Griffin Dunne). What's an 11-year-old girl to do?
Classic Movie Nights are sponsored by Exxonmobil