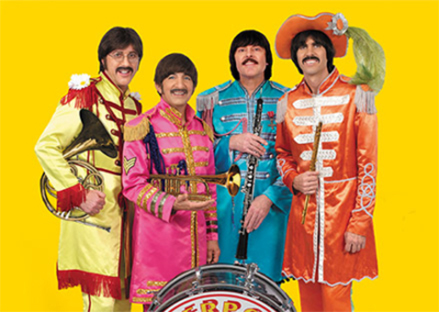 Liverpool Legends: All You Need is Love
February 14, 2019 • 6:00 pm
Liverpool Legends: All You Need is Love
Thursday, February 14, 2019
Jefferson Theatre
Tickets are on sale now and can be purchased on Ticketmaster.com.
Liverpool Legends return to Beaumont on Thursday, February 14 at the Jefferson Theatre.
Liverpool Legends Beatles Tribute Band, are four talented musicians and actors who were hand-picked by Louise Harrison, sister of the late George Harrison of The Beatles.
Louise's involvement with Liverpool Legends, makes them the only band in the world with a close, direct biological link to the original Fab Four! "Liverpool Legends present the very best portrayal of The Beatles since the only four guys to play The Beatles were John, Paul, George and Ringo!" says Harrison. Liverpool Legends perform songs spanning the entire career of The Beatles and on through the solo years. With precise attention to every musical detail, along with costume changes, vintage instruments and special effects, Liverpool Legends will make you feel like you are watching the real thing! Together, these four lads will bring you "The Complete Beatles Experience."
Celebrating their 10th season headlining their own production in Branson Missouri, Liverpool Legends have been voted Best New Show, Best Band, Best Show, and received the prestigious Visitors' Choice Award for Entertainer of The Year for consecutive years. The band received national attention as they re-created The Beatles famed 1966 concert at Busch Stadium in St. Louis.
In 2012, Liverpool Legends along with Louise Harrison were nominated for a Grammy Award for their work on "Fab Fan Memories" – a Beatles Bond. (See an interview from The Red Carpet here) Recently Liverpool Legends were chosen over every other Beatle Tribute band in the world by top television and film producer Jerry Bruckheimer (CSI, Pirates of The Caribbean, National Treasure) to portray the band that changed the course of music and the world forever. On July 4th, 2014, Liverpool Legends headlined The Rose Bowl in front of 60,000 people!
Members of Liverpool Legends have toured the world, playing in historic venues such as Carnegie Hall, The Cavern Club in Liverpool, recording at the famed Abbey Road Studios in London and performing with Denny Laine (co-founder of Wings with Paul McCartney), Pete Best (the original Beatles drummer) and the Boston Pops. They appeared on The Travel Channel's "Beatlemania Britain" and headlined "International Beatles Week" in Liverpool where 100,000 Beatles fans jammed Victoria Street to hear them in concert.