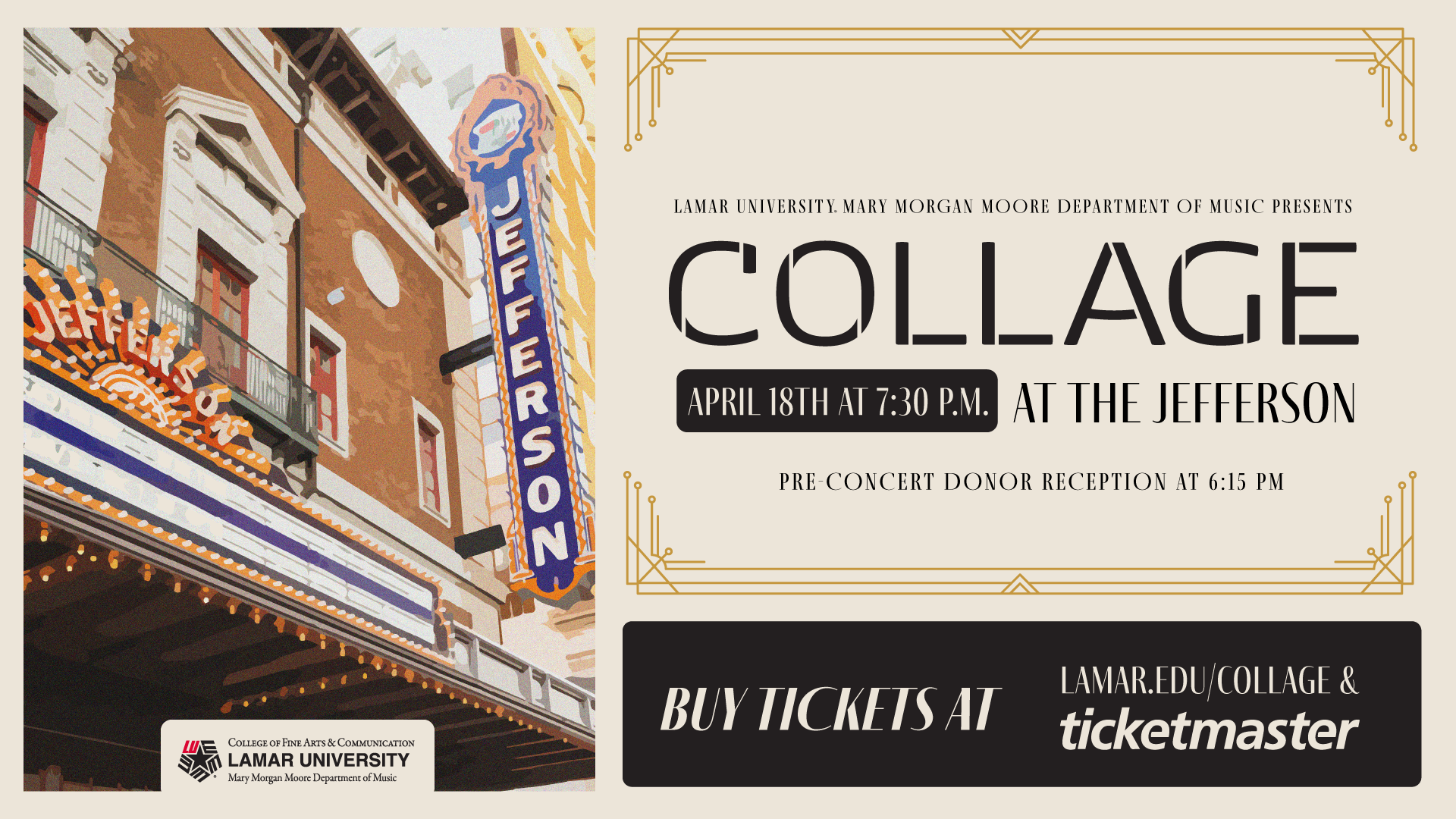 Lamar University Collage 2023
The Lamar University Mary Morgan Moore Department of Music's Collage concert features our finest large ensembles, small chamber groups, and a variety of student and faculty performers. Audience members get a small taste of every type of music from Opera to Jazz. Both students and faculty are utilized in a quick-paced and seamless concert that will highlight the variety of talent Lamar University has to offer.
Collage will take place April 18 at 7:30 p.m. with a pre-concert donor reception at 6:15 p.m. Tickets are avaliabale for purchase through the Ticketmaster website or by visiting www.lamar.edu/collage.
This year we are excited to perform the concert at the beautiful Jefferson Theater in downtown Beaumont which has been recognized as a Recorded Texas Historic Landmark. This historic theater is the perfect setting to highlight the talented student performers who will grace the same stage as many famous performers of the past such as Lyle Lovett, George Carlin, Lou Rawls, The Temptations, and Joan Rivers.
As always, the proceeds from the event will benefit our students directly by helping fund our various festivals and events throughout the academic year. Your contributions allow for our students to learn from prestigious guest artists, perform with renowned musicians from across the United States, and become inspired to lead the next generation to love and experience music.
Consider becoming a sponsor for Collage by visiting Lamar.edu/Collage. There are a variety of different sponsorship levels to choose from which each offer their own benefits. All sponsorship levels include tickets to a pre-concert reception in the Dishman Art Gallery.
Or you may choose to simply purchase concert tickets. Individual concert tickets are $30 and will be available for pre-sale at Lamar.edu/Collage, Ticketmaster, and at the door the night of the event.
If you have any questions, please contact Tim Dueppen ([email protected]), chair of the Collage committee.
Share This Story, Choose Your Platform!