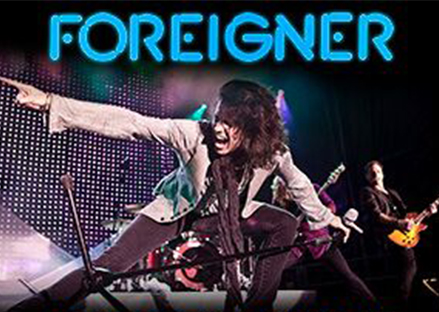 Foreigner
April 22, 2019
Julie Rogers Theatre
6:30PM doors
Tickets go on sale Friday, January 11 and can be purchased on ticketmaster.com. 
With ten multi-platinum albums and sixteen Top 30 hits, Foreigner is universally hailed as one of the most popular rock acts in the world with a formidable musical arsenal that continues to propel sold-out tours and album sales, now exceeding 75 million. 
Responsible for some of rock and roll's most enduring anthems, Foreigner continues to rock the charts more than 40 years into the game with massive airplay and continued Billboard Top 200 album success.
Founded in 1976, Foreigner's debut album produced the hits "Feels Like the First Time," "Cold as Ice" and "Long, Long Way from Home."  The album Double Vision followed, as did a string of hits like "Urgent," "Juke Box Hero" and "Waiting for A Girl Like You."  Those songs helped give Foreigner's next album, 4, its impressive run at #1 on the Billboard chart.  At the zenith of 80's sound, Foreigner's fifth album, Agent Provocateur, gave the world the incredible #1 global hit," I Want to Know What Love Is."  This musical milestone followed the record-breaking song "Waiting for A Girl Like You."
At Foreigner's core is the founder and Songwriters Hall of Fame member Mick Jones, the visionary maestro whose stylistic songwriting, indelible guitar hooks and multi-layered talents continue to escalate Foreigner's influence and guide the band to new horizons. He reformed the band after a 2002 hiatus and selected lead singer Kelly Hansen to help write an inspired new chapter in the history of Foreigner. One of rock's greatest showmen, Hansen is known for his innate ability to connect with the crowds. As a front man and lead vocalist, Hansen is among the most respected, consummate professionals in rock and roll. With a 35-year career that spans almost every area of music, from the role of lead vocalist to producing and engineering, Kelly has the unique ability to advance and excel when faced with new challenges.  
Mick also brought in bassist Jeff Pilson, multi-instrumentalist Tom Gimbel, guitarist Bruce Watson, Michael Bluestein on keyboards, and Chris Frazier on drums. An unprecedented new level of energy leads the group to a re-emergence of astounding music that speaks to long time Foreigner fans and younger generations. With renewed vitality and direction, Foreigner hit the Billboard charts again with the 2005 release of their live greatest hits album, Extended Versions. Can't Slow Down followed in 2009 and entered the Billboard chart in the Top 30, driven by two Top 20 radio singles, "In Pieces" and "When It Comes to Love."  To follow was the release of the band's 3-disc set, Feels Like the First Time, which included an acoustic CD with an intimate and unique re-interpretation of many Foreigner classics, studio re-records by the new lineup and a live performance DVD showcasing the group's exceptional live energy.