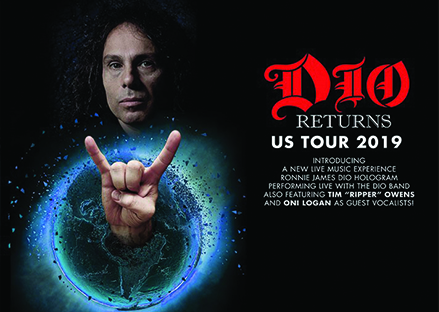 Dio Returns, featuring the hologram of heavy metal musician Ronnie James Dio, joined onstage by the late rocker's former Dio bandmates, will perform at the Jefferson Theatre on Sunday, June 23.
Tickets are on sale now. Click here to purchase tickets.
Doors 7:00 p.m.
The most buzzed-about tour in the heavy metal world – the Dio Returns Tour, featuring the Ronnie James Dio hologram – is finally coming to the United States this summer. The show will feature a line-up of Dio bandmembers of 17 years performing aside the stunning Ronnie James Dio hologram.
The official band line-up will feature Craig Goldy on guitar, Simon Wright on drums, Scott Warren on keyboards, and newer Dio family member Bjorn Englen on bass. The show will also feature renowned metal vocalists Tim 'Ripper' Owens (Judas Priest/Yngwie Malmsteen) and Oni Logan (Lynch Mob).
This 90-minute celebration of Ronnie James Dio will include all of the great fan favorites – such as "Holy Diver", "King of Rock N' Roll" and "We Rock" – taking fans on a Dio journey from Rainbow to Black Sabbath, to his own Dio material – with the legend himself!"