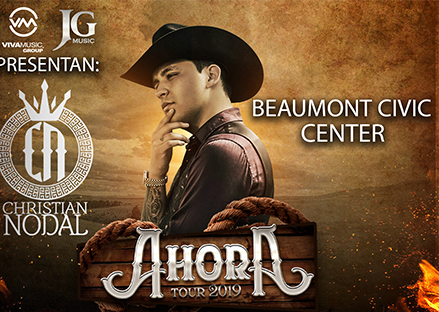 Christian Nodal "Ahora" Tour 2019
Mexican singer-songwriter of mariachi music. Nodal is best known for his debut single, "Adiós Amor".
Tickets on sale now!
Doors open at 8pm
Show at 9pm
Christian Nodal was born and raised in Caborca, Sonora, Mexico. According to Nodal, he started singing at the age of four and later learned how to play the piano and guitar on his own.
In January 2017, Nodal released, "Adiós Amor", which quickly became a success in Mexico and the United States. "Adiós Amor" reached number one on the Top 20 General Mexican Songs Chart and number two on the Billboard Top Latin Songs chart in the United States.
In June 2017, Nodal collaborated with Spanish singer, David Bisbal and released, "Probablemente". Bisbal told Billboard magazine, "…he [Nodal] a great interpreter but also a songwriter. I love what he's doing and it's an honor to be a part of the early stages in his career."