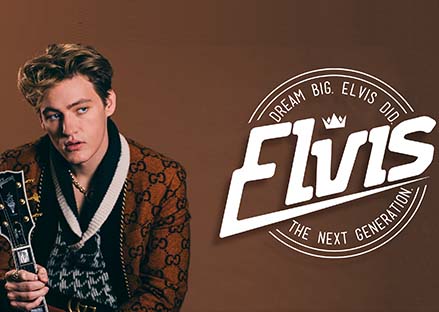 Elvis The Next Generation Starring Jake Rowley
Elvis The Next Generation Starring Jake Rowley with special guest Slim Jim Phantom
Saturday, July 24, 2021
Jefferson Theatre
Doors 6:30pm
Show 7:30pm
Penland Foundation Productions proudly presents Elvis The Next Generation starring Southeast Texas' very own, Jake Rowley who portrayed Elvis in the Tony Award-winning Broadway musical, Million Dollar Quartet. This show is not a mere impersonation, but rather a pure Celebration of the Music of Elvis Presley, featuring young master musicians capturing the authentic spirit of Elvis' legendary songs while maintaining their individual originality onstage. You won't believe your eyes and ears! Don't miss Jake Rowley in Elvis The Next Generation bringing the music of Elvis into the present! A portion of the proceeds will benefit the Southeast Texas 100 Club supporting the families of fallen 1st responders and so much more. Proceeds will also benefit our Front Line Workers.
Elvis™ and Elvis Presley™ are trademarks of the ABG EPE IP LLC
Rights of publicity and persona rights: Elvis Presley Enterprises, LLC
Elvis The Next Generation, Name, Logo ©2021 Natasha Mrkovich
facebook.com/elvisthenextgeneration
Slim Jim Phantom has secured his place as a true rock-n-roll icon. As the legendary drummer for the Stray Cats, Phantom, alongside bandmates Brian Setzer and Lee Rocker, spearheaded the neo-rockabilly movement of the early 80s. With a love for 50's Rock and Roll, the Stray Cats took inspiration from that bygone era and mixed with their youthful energy and aggression to produce the updated hard-edged rockabilly sound that saw them conquer London, Europe and later the U.S., gaining fans among the likes of Keith Richards, Mick Jagger, and Robert Plant along the way.