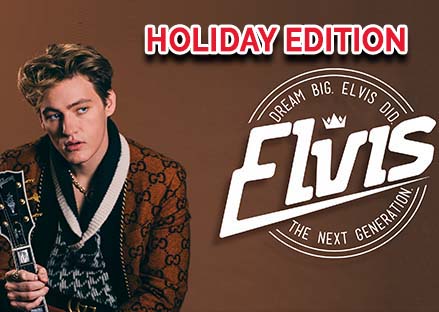 Elvis™ The Next Generation Holiday Edition
December 17, 2021 • 8:00 pm
Elvis™ The Next Generation Starring Jake Rowley HOLIDAY EDITION
Friday, December 17, 2021
Julie Rogers Theatre
Doors 6:30pm
Show 8:00pm
The largest selling Christmas album of all time was released October 15th, 1957 by Elvis Presley. Jake will perform some of your favorite songs from that album along with many of Elvis' biggest hits and so much more. There will be more surprises with some very special guests announced soon. 
This is not an impersonation but rather a pure celebration of the music, the magic and the memory of the greatest entertainer of all time, that brings Elvis into the present. This show is great for the entire family, bringing his music to the Next Generation of Elvis Fans.  
Benefitting: Julie Rogers Gift of Life Program, The 100 Club of Southeast Texas, Texas Children's Hospital and The University of Texas, MD Anderson Cancer Center. 
 Elvis™ and Elvis Presley™ are trademarks of the ABG EPE IP LLC 
Rights of publicity and persona rights: Elvis Presley Enterprises, LLC
Elvis The Next Generation, Name, Logo ©2021 Natasha Mrkovich